Unifonic is selected as WhatsApp Business Solution Provider
unifonic, the pioneering Riyadh-based cloud communications platform and business and public sector service provider, has signed an agreement with internet giant Facebook's subsidiary WhatsApp.
The service resulting from this agreement will offer timely and scalable solutions that address communication challenges between local and regional companies and their clients. The new service with WhatsApp will facilitate communication with clients using an innovative, effective, and rapid approach that utilizes the WhatsApp business API to connect software platforms and allow companies to easily and seamlessly connect with their client base, which may be thousands and even millions of users.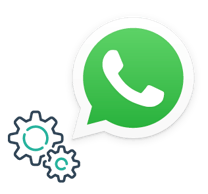 Through the WhatsApp Business Platform, unifonic will provide a dual-way communication channel with clients that provides notification messages, verification messages, and updates, which could be used to inform clients on topics such shipment arrivals, flight delays, and even product and service reviews, among other types of information. Clients may also begin conversations by asking questions or sharing comments and feedback. Supported content includes text, audio, and image/video files, in addition to geographical location sharing.
Eng. Ahmed Hamdan, CEO at unifonic, highlighted the significance of the agreement signed with WhatsApp in providing innovative solutions for the private and public sector enabling companies and government entities to connect with their clients in an efficient manner. He stated that the service utilizes WhatsApp's global platform to enhance customer experience and improve business performance, especially in light of the current situation imposed as a result of the Covid-19 global pandemic, where people are compelled to stay at home and resort to automated and digital communication methods as an alternative to visiting offices and service branches.
Moreover, he added that the agreement will expand the reach of WhatsApp Business API services among local and regional business sectors, especially with the application enjoying being used by 2 billion people worldwide. This in turn will help the local and regional private sectors to communicate with clients effectively, enabling a unique customer experience that will reflect positively on operational and productivity capacities.
Hamdan also reiterated unifonic's dedication to support the Kingdom's development efforts through launching various services, contributions, and plans designed to augment the digital transformation journey under Saudi Vision 2030. He additionally underlined the company's commitment towards strengthening the knowledge-based economy and driving innovation in the Kingdom especially within the ICT sector, which has already witnessed quantum leaps in parallel with Saudi Arabia's contributions to the global economy, presiding of the G20, and being selected as the first Arab digital capital in 2020.
unifonic seeks to provide the WhatsApp Business Platform service to various sectors, most notably e-commerce, retail, logistics, telecommunications, financial, insurance services, and travel and hospitality service sectors. unifonic is proudly serving numerous private, public, and semi-public entities in the Kingdom and the region, some of which are Al Bilad Bank, Absher App, Careem, Hunger Station App, and others. Which has helped the company in gaining the trust of local, regional, and global investors.
The pioneering Saudi-grown company was also selected in 2013 as one of the most influential startups by Endeavor, and has led in 2018 the largest tech investment valued at USD 21 million, thus spearheading the first step of an ambitious journey within the cloud communications sector.
The company was established in 2006 after brothers Ahmed and Hassan Hamdan built a website that enabled clients to send an SMS to over 50 recipients at once for minimal cost. The company witnessed remarkable growth to become one of the most prominent cloud communication platforms that currently serves over 5000 companies in the Middle East.
The unifonic team includes over 100 dedicated creatives and skilled professionals from diverse nationalities of engineers, developers, innovators, and public relations specialists, working hand in hand to maintain the company's success in providing pioneering and innovative cloud communication solutions, to ensure unifonic becomes the top cloud communications provider to private and public sectors in the middle east and the region.