How to improve your lead funnel with WhatsApp
Supercharge Your Marketing Funnel With WhatsApp for Business
In today's digital age, businesses must constantly find new ways to capture new leads, nurture them and turn them into loyal customers. One strategy to achieve this goal is through the use of a lead funnel; a step-by-step process that guides potential customers from initial awareness all the way to purchase and beyond.

There are differing views on exactly how many stages a lead funnel has and what they are called. At Unifonic, we find it helpful to define the stages as Acquisition, Nurture, and Support. At each stage, the features available in Meta's WhatsApp Business product can make the difference and encourage people along the path to becoming loyal customers, Let's take a look at each stage in turn and examine what role WhatsApp Business and WhatsApp Business API can play.
Acquisition
The acquisition stage is all about capturing the attention of potential customers and making them aware of your brand, products, or services, and encouraging them to interact with you. Some features of WhatsApp business that you might consider at this stage are:


Use WhatsApp Business to add a chat widget to your social media channels and website connected to a chatbot. The chatbot can be fully customized to your business and used to initiate a conversation with visitors to find out more about what they might need and ask for contact information. The bot can also hand over to a live customer service team to answer any in-depth questions potential customers may have.


Add 'click-to-chat' buttons on your social media ads so that anyone who views the ad can be taken directly to a chat with your agents or a chatbot to answer questions, gather extra information or even make a purchase there and then.


Add a 'Subscribe to WhatsApp' button to your website or social media channels to encourage visitors to engage.


Share updates and news about your brand, new products, or promotions with potential customers through WhatsApp Business status updates to keep visitors informed and encourage engagement.



QR codes on print material or social media channels that link straight to your WhatsApp profile can encourage visitors to sign up to receive notifications.






Nurture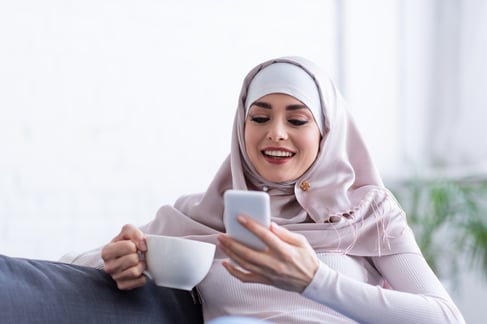 Once you have captured the attention of potential customers, the 'Nurture' stage is designed to engage them and keep them interested in your products or services. This is where you can use some WhatsApp Business features to engage visitors to your website, answer questions, and make recommendations.
If you have already obtained opt-in permission from your lead, you can reach out to them with product or service recommendations based on the information you already have about them. Be careful not to over-communicate or spam as this will more than likely put people off. The aim is to be helpful but never pushy.




WhatsApp for business also has automation tools so that you can push messages to groups of leads based on their interests or demographics. This allows you to segment your contacts in any way you choose so that any communication you send out stays relevant, Automating your lead nurturing with WhatsApp Business API can be a very effective way of keeping potential customers engaged.


Use WhatsApp Business to provide personalized recommendations and advice to potential customers, addressing any questions or concerns they may have.


Share testimonials and social proof from satisfied customers to build trust and credibility with potential customers.


Segment your contacts database using your CRM system in combination with WhatsApp Business API so that specific groups or even individuals can be sent relevant messages/offers. Communications can also be personalized using names, birthdays, etc to give an even more customized experience.


Integrating a product catalog with WhatsApp also allows you to send product recommendations, videos, and in-depth product information. Pairing this with a chatbot or a live agent means that you can provide a full personal shopping experience, even including video calls so that the customer can get all the information they need to make a decision.


Once customers have made a decision to purchase, the checkout process needs to be as easy as possible. Enabling customers to complete their purchases directly through WhatsApp Business by integrating payment options into the chat interface allows for a smoother user experience.



If customers abandon their cart at the final hurdle, a well-timed WhatsApp with an extra incentive is a proven way to get customers over the line.




Support




The 'Support' stage is all about building long-term relationships with customers and encouraging repeat purchases. Providing a positive experience at this stage means there's a good chance that customers will come back for more. This is where some of the WhatsApp features can help.
Use WhatsApp to provide real-time order updates and shipping information. If a customer is kept informed throughout the transaction and delivery process, it can put their mind at rest, thus reducing traffic to call centers and other customer service channels.


Chatbots can also be well utilized at this stage of the funnel to provide help and support 24/7 without the need for live agents to handle every query.


Encourage customer loyalty by sending personalized follow-up messages and promotions to customers to encourage repeat purchases. This can be through asking for feedback, proactively addressing any issues highlighted during the purchase, sending discounts or loyalty points for follow-up purchases, information about new product launches, or offering the opportunity to access new products/services before general release.


Using the WhatsApp Business API's features at this stage of the funnel to extract and analyze purchase and behavior data, can also be a powerful way of recognizing trends that help improve products and processes that in turn lead to greater customer satisfaction and ultimately more sales and more customer loyalty.


Customer acquisition, lead nurturing and support are all vital ingredients in any business's success. By using WhatsApp Business' numerous features to your advantage in each stage of the lead funnel, your business can engage potential customers, provide a more personalized experience, make the buying process simple, and help encourage repeat purchases by providing excellent after-sales service.

To talk to one of Unifonic's experts about how to use WhatsApp for Business effectively in your organization, contact us today.