How Customers are Driving Change in Financial Services
In a sector that once seemed impenetrable to significant competition, the customer is king again.
The $26.5 trillion financial services sector is continuing to experience a significant period of digital transformation, largely fueled by fintech. Through that, upstart innovators are finding niche ways to meet customers' financial services needs, ranging from car insurance to wealth management.
The fact is, customers now have all manner of options when it comes to investing, borrowing, insuring, and saving. The days of limited competition are gone, likely for good. Financial services innovations now represent one of the fastest growing sectors in the world and include as many as 26,000 fintech startups.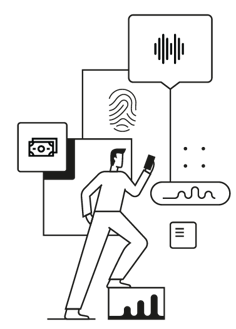 So if a customer can't get the financial services they want in one place, a loan or a trade for example, now all they have to do is move to the next options. And that transition can take place in minutes and happens in the palm of a hand, from wherever there's an internet connection.
Many of the transformational innovations in fintech exist because of a hyper-focused approach to serving the customer. That includes great communication; smart, valuable, and even entertaining interactions on the platforms of their choice, whenever they want, however, they want.
And that commitment to meeting customer needs has paid off with up to 28% of banking and payment services, for example, at risk of disruption due to new business models brought about by fintech.
But financial services heavyweights are catching up by investing in product and service innovations of their own and paying more attention to the most important asset they have: their customers.
To keep pace with change and prepare for the future, financial services institutions need to continue to listen to their customers. And the more they have the opportunity to interact with those customers, on whatever platform those customers prefer, the more behavioral insights they stand to gain. And those insights are key to informing winning product development strategies that keep customers engaged and loyal.
Customers in financial services are once again being won and lost on service. But service itself is not what it once was. It has moved beyond face-to-face interaction in a single location. And It can include voice and text and video interaction, sometimes simultaneously. That is the new norm and it is evolving rapidly.
Additionally, customers increasingly want to know that their patronage is valued and appreciated; that their financial institutions are going to work for them, not the other way around. Being available and accountable to customers when the opportunity arises is critical for businesses in the financial services sector.
That new level of communication can be complicated, but incredibly rich and meaningful when done well, as many winning fintech firms are finding out. And now that depth and flexibility are what all customers are coming to expect.
Omnichannel communications open opportunities to create better moments for customers in financial services. With a focus on consistent, integrated messaging across all communications channels, financial services businesses can not only be prepared for the future but ready to lead the way.