Success stories powered by Unifonic: Bazil
Bazil's Success Story: Achieving excellence in the world of perfumes with the help of Unifonic
Introduction: Bazil, a leading Saudi retailer

Bazil stands out as one of the leading companies in the perfume retail industry, with a rich history of accomplishments in its four-year journey. The company initiated its venture in the Kingdom of Saudi Arabia and later expanded its presence to the Gulf countries, cementing its position as a prominent brand in the perfume world.
Bazil distinguishes itself by offering a diverse range of inspired perfumes, aiming to provide the same quality as high-end fragrances but at prices not exceeding 100 Saudi Riyals (approx 27 USD). The Bazil team is dedicated to expanding across the Middle East region and entering new countries through the opening of numerous new branches in addition to their online store.
In addition to perfumes, Bazil has diversified its product line to include hair mists and linen sprays and continues to expand its product range and customer base.


The challenges of a modern retail ecosystem

Bazil encountered various challenges in marketing and customer service. Among these challenges was the integration with Salla (the e-commerce platform), in addition to dealing with large volumes of customer orders through traditional support channels. As the customer base grew and demand increased, it became more and more challenging to respond to customer inquiries in a timely manner. Other challenges included customers often forgetting to complete their purchases and abandoning their shopping carts. This required additional efforts from the team to reach out to these customers, remind them of their potential purchases, and provide the necessary support to successfully complete the buying process.
Mohammed Haidar, performance marketing manager at Bazil, said, "In 2023, WhatsApp proved to be our secret weapon, delivering instant, outstanding marketing results. Within hours of launching a new campaign, our dashboard showed a significant increase in the numbers."
Business goals and objectives: Enhancing customer experience
Overcoming these challenges was crucial to Bazil's success in achieving its goals and rapid growth, and the Unifonic platform and its services were instrumental in helping Bazil improve their customer communication process. Here's how:
The self-serve

chatbot provides answers to common customer questions and helps them track orders and verify delivery dates.

The agent console supports the customer service team to assist representatives in interacting with customers, with a seamless handover from the chatbot for more complicated queries.

Easy integration with the e-commerce platform (Salla) allows Bazil to communicate with customers and remind them of their abandoned shopping carts over their preferred communication channels in a timely manner.

The use of Multichannel Campaigns and Flow Studio to nurture and retain customers, by sharing the latest offers and new product promotions

.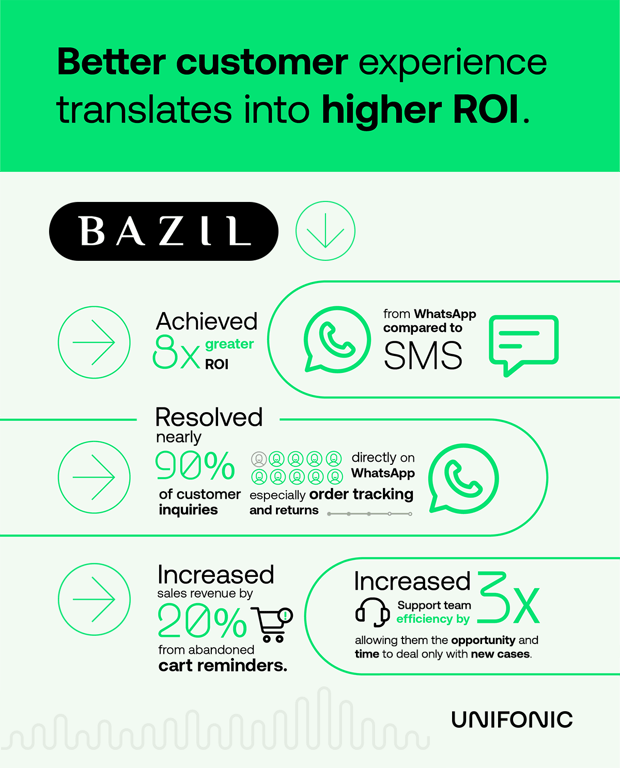 Bazil's success story reflects its commitment to providing the best experience for its customers and leveraging the latest technologies to achieve their goals - proving that innovation and technology are key ingredients in achieving business success in the retail world. Bazil is an inspiring model for companies in the Middle East, and Unifonic continues to be a key partner in their exciting journey towards excellence and success.