unifonic UStar Program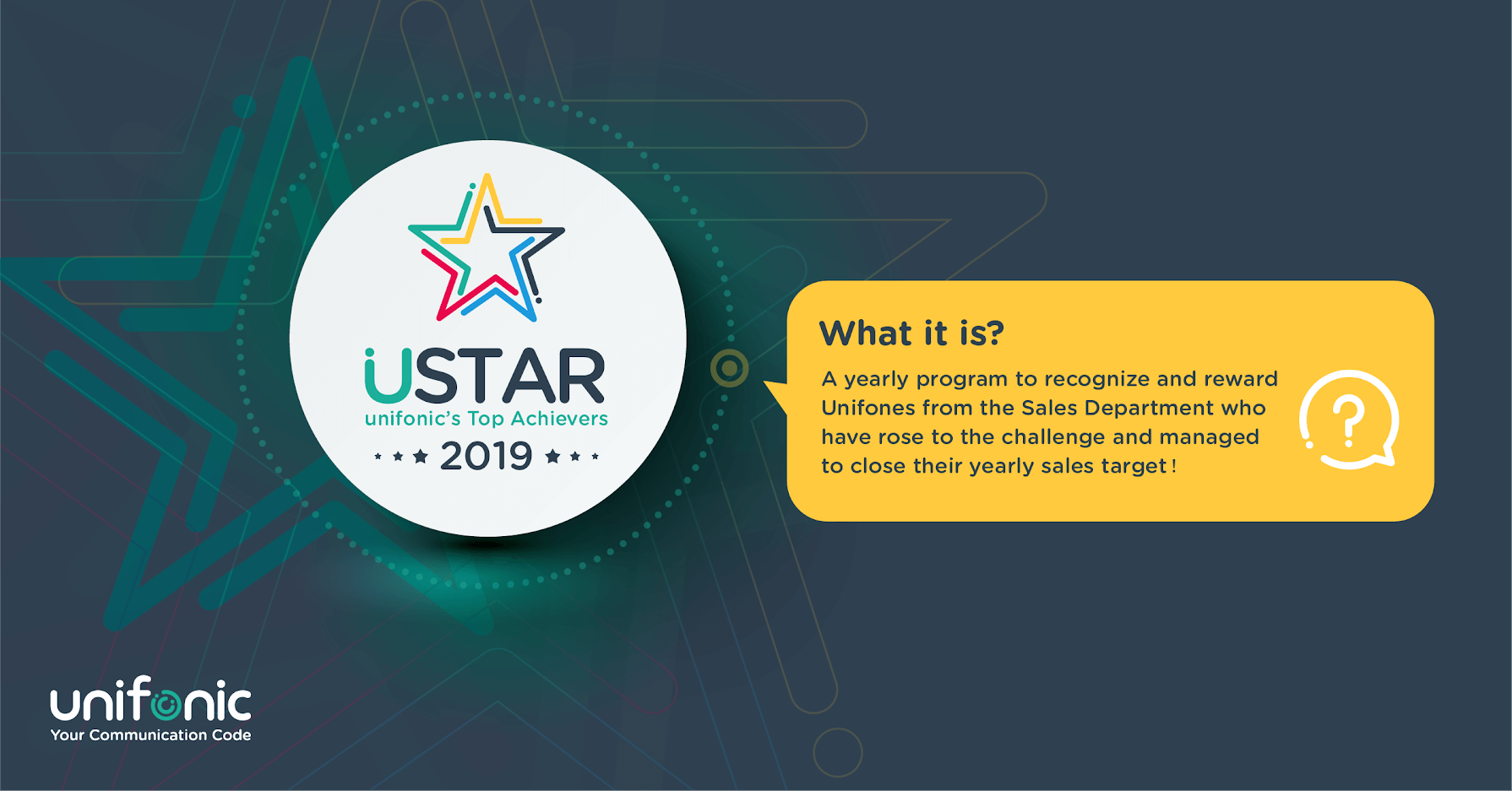 To celebrate the hard work of our achievers we thought of nothing better than to appreciate our employees our own way by designing and launching the "UStar Program". This program is specifically designed to recognize the efforts and hard work of our achievers. The selection criteria are based on the internal assessment and consider looking at multiple factors including sales target, performance…etc. These achievers will receive a badge and UStar logo on their business card and email signature as a token of appreciation.
Finally, our 2019 "UStars" are: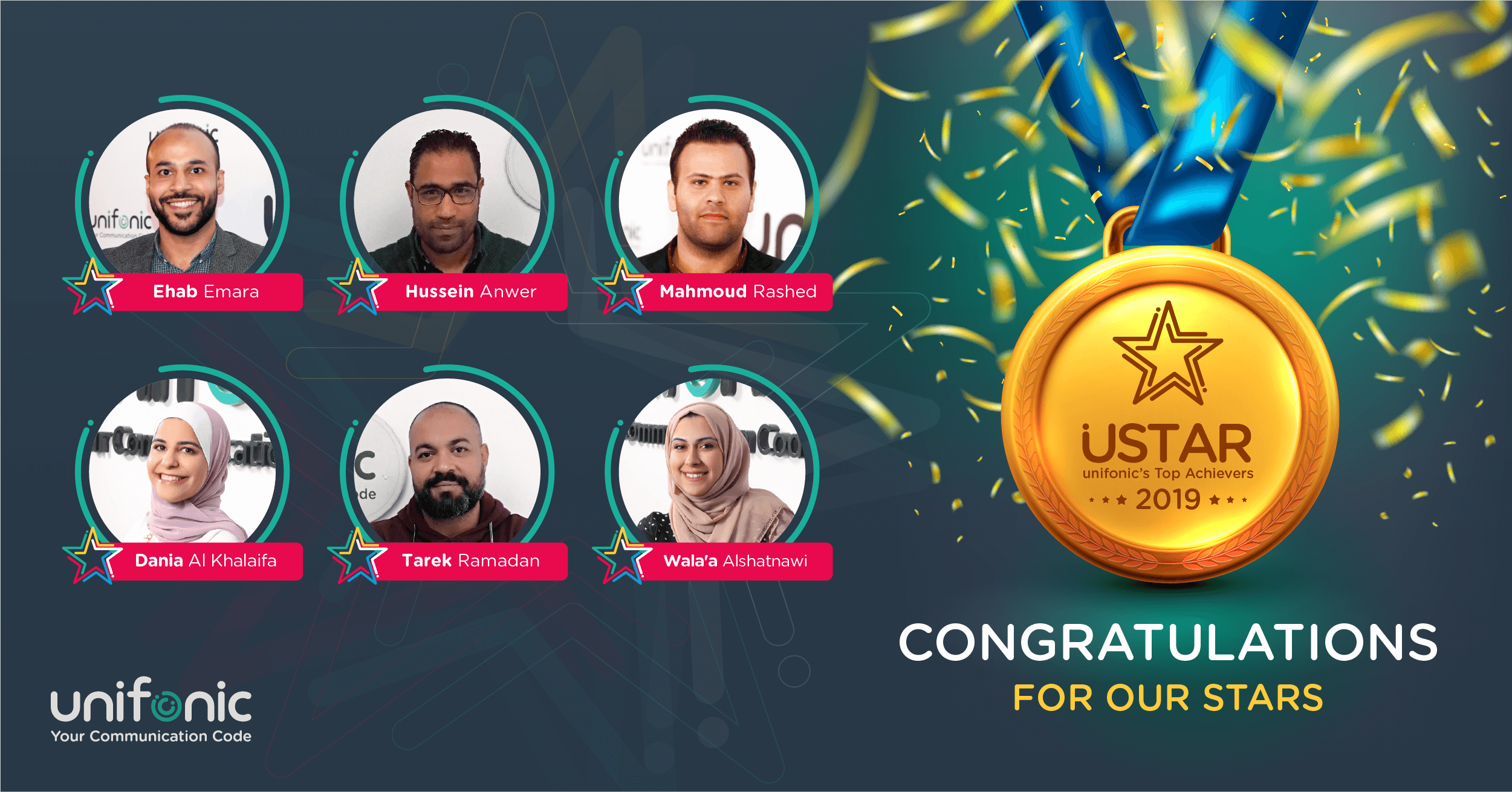 Achiver's Key Insights
These extraordinary salespeople were not only responsible for a wide range of sales-related tasks but have also excelled at maintaining and retaining their customers.
Each one of them was unique in their own regard and came from different backgrounds. Some had been already working for unifonic for several years with vast past experience and others were more new to the company. While some had a background in marketing or past experience in digital marketing, others were from a pure sales background. In spite of their differences what made them shine together was their love of sales. We observed that each and every one of them genuinely enjoyed the human interaction and that's what made the tedious task of sales interesting for them.
They normally spend their day dealing with prospective clients, selling and upselling products, making sure that the clients have enough balance in their accounts, resolving client queries and calling prospective clients. All these duties take great energy and effort and require them to perform their task perfectly. After their in-depth interviews we have summarized some of the key learnings from their experience:
Relationship Building
From the achievers' point of view, the key to a successful business is maintaining good relationships. Building and growing a good relationship with the prospective customer is the key to the sales industry.
"To create a good relationship, the first key is to listen. Paying close attention to what the customer is saying, can help you offer something that best suits his needs, ultimately resulting in a successful sale" – Mahmood Rasheed
Maintaining a good relationship is not limited to the time of closing of the deal. It is considered a good hack to remain in touch with old customers. Sending them an email or congratulating them on their success adds to the value of relations. Likewise, the aspect of value addition is also important when it comes to sales. Adding value for the client could be in any form like giving free consultation or advice to the client regarding the service that best suits their needs or offering them with exclusive offers. These value additions could help you in closing a deal.
"Doing your homework before making a pitch to prospective clients is very crucial. The salesman should be ready to offer the client something new, something that could add value to the client. Clients are always looking for additional value."- Tarek Ramadan
Response to Rejections
Every salesperson experiences rejection very often, but considering it as an opportunity is the key feature to turning the rejection into acceptance.
"Thinking perspective really matters when it comes to rejection handling. In case of rejection, the salesman needs to understand the fact that the client did not reject him, instead, the client rejected the product that was being offered because it may not suit best to his needs"- Wala'a Alshatnawi
This perspective can help the salesperson offer something of value that best meets the clients' needs. Likewise, the rejection should also be considered as a signal that the salesperson should change his approach or tactic towards approaching the client.
Salespeople also need to keep in mind that they won't be closing deals with 100% of the prospective clients no matter how hard they try. Therefore, every rejection should be fully analyzed and learned from.
"Getting a 100% conversation rate through the sales funnel is almost impossible. However, the minimum positive impact will be that the awareness regarding your services would increase"- Dania Alkhalifa
Developing a Sales Strategy
Developing a sales strategy is vital. This plan, if drafted well, can help you in choosing the right sales strategy for your targeted market and will help you to outperform your targets.
"Salespeople need to devise their own unique sales strategy. That strategy should be updated and revised regularly as per the needs. Keeping yourself up to date with the market trends can help you identify the gaps" – Hussein Anwer
Having plans mapped out into manageable and actionable processes can motivate the employees to achieve their targets faster with a smaller margin for missing the target.
Following up
Sales do not just happen in just one meeting. The sales process could and does sometimes take a series of meetings to close a deal. Following up with the client is one of the best practices in the sales industry and can speed up the process of the sales deal. Salespeople can email or call the prospective client to inquire more regarding the needs or to offer them special deals. Furthermore, this also helps the clients in knowing that you actually care about the relationships and this gesture can close your deal.
"The competition is intense in the market. We often face rejections because the clients are already having services from competitors. Therefore, we need to be very patient and keep on following up with the clients. Offering something of more value compared to competitors can help us win the client"- Ehab Emara
The above-mentioned tips and tricks suggested by the achievers are wonderful hack for any salespeople to take into heart and action to achieve their targets and close more deals.
Lastly, we at unifonic, would love to extend our appreciation for the great job done by our sales team. The sales team has always opted to go the extra mile to achieve their target and produce outstanding results. The management team of unifonic assures all the UStars that we recognize the amount of effort you put in. As a sign of appraisal, we are happy to award you with the UStar badges. We are lucky to have you on our team and we promise you a mutually successful relationship.