Click-to-WhatsApp Ads. What are They and How Do They Work?
The addition of Click-to-WhatsApp ads on social media platforms has been a very effective addition to the toolset available to marketers in the ongoing battle for eyeballs and customers. These ads have proved an effective way to generate leads and engage with customers. In this short article, we explore more about how these types of ads work, how to get the most from them, and the pitfalls to avoid whilst using them.
What are Click-to-WhatsApp Ads?





As the name suggests, this type of ad allows users to click directly on a 'Send Message' call-to-action (CTA) button that takes them instantly to a WhatsApp chat with the company. They are similar to any other ad on the Meta platform in terms of design and targeting options, the key difference being that rather than linking directly to a website or landing page as is the norm, the call to action at the bottom of the ad takes the user directly to a WhatsApp chat window with the advertiser. This makes these ads an effective tool for lead generation because interested users can interact immediately with the advertiser as soon as something piques their interest.
How to Schedule Click to WhatsApp Ads



Any business with a WhatsApp Business Platform account can schedule and run Click-to-WhatsApp ads. They are created in the same way as standard ads and can be deployed across any Meta platform. For ads that have objectives set to 'Traffic', 'Website Conversions', or 'Message', simply select 'Messaging apps' as the message destination.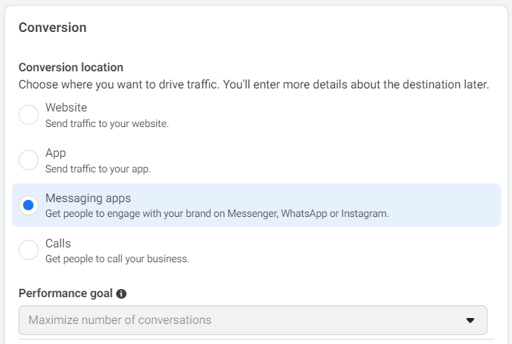 If you have set your ads to have 'Reach', 'Brand Awareness', 'Engagement', or 'Video Views' as objectives, select 'Send WhatsApp Message' in the 'Call to Action' dropdown.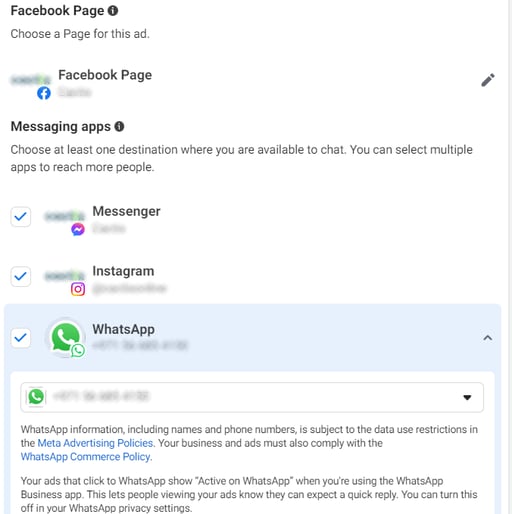 If you are running ads on other platforms such as Google, you can also run Click-to-WhatsApp ads but they appear under the name of 'Click-to-chat'.
Advantages of Click-to-WhatsApp Ads
One of the biggest advantages of Click-to-WhatsApp ads is the high click-through rate (CTR) they generate.


Users who click on a 'Send Message' CTA are generally high-intent and ready to engage in a conversation with the advertiser. This can lead to more meaningful interactions and potentially, higher conversion rates.


WhatsApp is a platform and a method of communication that is well-understood by billions around the world and most of your customers will already have it installed on the same device they are using to browse your ad. Consequently, there is very little friction and a high level of trust when initiating a WhatsApp conversation directly from an ad.


Interactions initiated through a Click-to-WhatsApp button on an ad running on a Meta platform (Instagram, Facebook, Messenger) are not charged by Meta as 'conversations' so there are no extra charges beyond the cost of the ad itself. For more information on the latest changes to the Meta charges relating to conversations on the WhatsApp Business Platform, read our recent article

here

.



Notes of Caution With Click-To-WhatsApp Ads
There are some potential pitfalls when using Click-to-Whatsapp ads that advertisers should be aware of. For instance, many people are not expecting to interact with a company when scrolling through social media and might be put off by being placed abruptly into a live conversation. This can lead to high abandonment rates for conversations initiated in this way. To combat this, it's important to target the right audience for your ads and to make the wording on the ad very clear so that users know what to expect when they hit 'Send Message'.
Depending on where users are in your sales funnel, there is also a risk of diverting them away from the primary goal of making a purchase. If someone is already willing to buy, they may find the extra step of talking to an agent unnecessary. This is where targeting is key.
Tips for Successful Click-to-WhatsApp Ads
1. Make it clear in the wording of the ad that clicking on the CTA will result in a live conversation.
2. Avoid using ambiguous messaging that may confuse or mislead users.
3. Target your Click-to-WhatsApp ads at a specific segment of your audience.
Click-to-WhatsApp ads can be a powerful tool for lead generation and for encouraging engagement. They can bring prospective customers instantly in contact with customer service or sales teams. However, it's important to use these ads carefully and target the right audience to get the most out of them because launching people directly into a chat window when they aren't expecting it can lead to a high abandonment rate and result in an underperforming campaign.
To speak to a Unifonic expert about getting the most out of the WhatsApp Business Platform for your business, contact us today.