WhatsApp is a powerful communication tool. There are more than 2 billion WhatsApp users worldwide, and for many people it's the personal communication tools of choice.
Every business should be using it. But there are two WhatsApp products aimed at businesses: the free WhatsApp Business app, and the powerful WhatsApp Business API service. Which one is right for you?
You may hear people say that the free WhatsApp Business app is for small businesses while the API is for larger enterprises. That's not entirely true. Which is best for you depends on what you want to use WhatsApp for.
This article will tell you what you need to know. First, we'll look at the features of the Business app and the API, and then we'll look at their pros and cons and some examples of which tool is best for messages you may want to send.
WhatsApp Business
WhatsApp Business is a free app you can download from app stores such as the iOS app store and Google Play. It works much the same way as WhatsApp Messenger but has added features.

It's free to download and needs no approval. It's simple to set up and you can send messages straight away.

It's limited to one user on one SIM card (you can also use WhatsApp Web to send messages via your computer). You can't run WhatsApp Business and WhatsApp Messenger on the same SIM card.

It allows you to set up a business profile.

You can set up a catalogue of products or services.

You have unlimited messaging, and there is no restriction on content (though you cannot infringe other people's brands or sell illegal products or services).

You can set up an automated welcome message, an away message and quick replies you can send with a few keystrokes.

You can set up groups of up to 256 contacts.

You can bulk message up to 256 people at a time.



WhatsApp Business API
WhatsApp Business API is an interface that allows you to connect business tools of your choice to the WhatsApp messaging interface. It's not an app.
It's a paid service available only through WhatsApp partners such as

unifonic

.
·You can only apply for a Business API account through a WhatsApp partner such as

unifonic

. You'll need to give information about your business for review by WhatsApp.

Your business profile will get a verification tick once WhatsApp approves your application.

Multiple users can access the interface across multiple devices.

The API allows two types of messages:

Session messages. Is the message that the customer sends to your business to start a conversation or to reply to your message.

Template messages, which a business can send to start a conversation with a customer. WhatsApp approves each template, which are limited to transactional notifications. You may not send promotional material through templated messages.

The API can take advantage of advanced automation such as message triggers and chatbots.

As with the Business app, you may not use it for illegal products or services, or infringe anyone else's brand.
Strengths of WhatsApp Business
Access to the WhatsApp Business app is limited to one person on one mobile, as with the standard WhatsApp Messenger. It's ideal for engaging customers and staff when the volume of messages is low. It's more personal, with messages largely written by the account holder. It allows you to send promotional material such as special offer notifications and engagement messaging such as behind-the-scenes videos, as well as to handle customer queries one on one.
Customers can browse your products and services through the catalog - not available in KSA yet - or you could post a recommended item during a chat. You can either take orders through WhatsApp, or provide a link to your online shop.
You can create multiple groups, for both your own team members and for customers, which helps keep each group tightly focused and means the 256-member limit is not the obstacle it appears. You might create groups based around your physical outlets, or around interest categories (such as VIP customers, privileged customers, accounts team, sales team and so on).
Strengths of WhatsApp Business API
WhatsApp Business API is an ideal tool for customer service and support. Restrictions on promotional messaging mean it's best used to enhance customers' experience.
The API works best alongside other communication channels, and when automation will help ease pressure on staff. For instance, your WhatsApp customer service might be a chatbot, moving to interaction with a human if necessary, or an online ticket purchase might have the ticket automatically delivered to a customer's WhatsApp Messenger if they choose that option.
Customer Care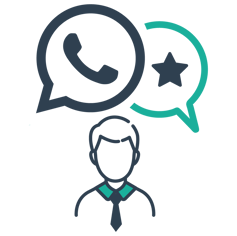 Reduce customer wait-times and support tickets.

Provide instant answers to customer queries via chatbot.

Increase scalability by interacting with multiple customers at the same time.

Creating service tickets through the chatbot.

Handling FAQs.

IVR deflection from other communications channels
Notification
Automate the updating process by connecting the account to your system, ensuring that you are updating your customers instantly.

Send your updates and set use cases through 10 already pre approved templates.
Which does it best - app or API?
Let's look at some examples: You want to tell customers about a special offer or send an engagement video:
WhatsApp Business is the best tool. You can't send unasked-for promotions in WhatsApp Business API.
A customer wants you to WhatsApp them a copy of their order:
If this is an infrequent request, or your overall volume is low, it's better to use WhatsApp Business. If you have a high volume and regularly get scores or hundreds of similar requests, WhatsApp API's automation will save you time and money.
Customers want digital copies of their boarding pass on WhatsApp from either online check-in or any of a dozen check-in desks:
WhatsApp Business API is the only possibility. Only the API can activate from multiple sources.
A customer sends a message asking what time their appointment is:
Scale matters here. If the request is infrequent, it's easier to manually check and message them. If you might be dealing with scores of such requests daily, it's better to let the API's automation handle it.
A customer wants to discuss options for a custom order:
WhatsApp Business may seem obvious, but the customer has started the contact and a well-designed API chatbot or a deflection from API to a human agent can also take them through the options.

Are you ready to digitalize the retail sector and automate ecommerce? Do you want to provide simple and hassle-free purchases for customers? Request a WhatsApp Business API account from unifonic today and unleash opportunities for your business.
How to harness the power of WhatsApp business API to create a remarkable customer experience?